Our Process
The Challenges of Wealth
While wealth increases your options, it also increases the number and complexity of decisions that you continually face. And poor decision making can have serious consequences for you and your heirs. People often seek an adviser when they realize that competent, well-thought investing and financial planning* are difficult, time consuming endeavors.
The first time we meet we'll have a well-thought out, productive discussion. If we agree there is a basis to move forward, we'll request some objective information so we can come to our second meeting prepared to make more progress.
By exploring the individual issues surrounding your wealth, we'll narrow the universe of available strategies down to the salient few that feel like a good fit. We look at strategies a la carte, and in concert, illustrating how a decision in one part of your plan can dramatically impact other areas.
The following are the next logical steps in our planning process:
Data Collection
Crystallize Goals and Objectives
Identify Status Quo
Considerations and Action Plan
Implementation
Update / Review Open Issues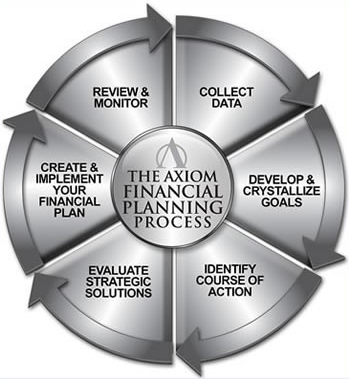 At the end of the process, we'll meet specifically to revisit where we started, how far we've come, and ensure you're pleased with the direction your plan is taking.
We feel this clarity empowers you to feel good about the actions you've chosen. More importantly, you can now have the peace of mind that comes with knowing the plan you have is the plan you want.